Everyone has different goals for the growth of their business. Some may want to grow their business to 7-figures. Some may want to just earn a few thousand dollars per year.
Depending on your ultimate goal, you may need a virtual assistant in order to scale to that size.
This is something that became so apparent to me while at a business mastermind in Destin last October. I was reviewing all that Envivo did so far in 2018:
what work we did
how many hours I put in
who is on our team
what they did
and how much money we made (we ended up earning double what we earned the year before!)
I looked at our workload in Asana and suddenly realized: I NEVER would have been able to handle this much work and make this much money if I didn't have my team by my side. I'm not saying that as a cheeky way of saying I am so grateful for them (which is the truth; I am eternally grateful for them!) I'm saying that I literally would not have had enough hours in the day or the expertise to do the work required in order for Envivo to be where it is today.
I also realized that before that upward growth in my business, when I was all by myself, I would not have been in business very much longer. Yes, I had a business generating pretty good revenue. But having a one-person team was unsustainable.
Now that I understand these two things, I thoroughly believe that unless you aspire to earn just a few thousand dollars a year, you have GOT to hire help.
If you aren't ready to hire right now, you are in the right place. I'm going to show you what you need to do today in order to prepare for when you are ready to hire your first virtual assistant.
As you may know, Envivo offers virtual assistant type services. We call it "online presence management". We take on all tasks that have to do with our client's online presence (social media, content, podcast, etc.) so they can focus on doing what they love to do. We've worked with both people who are hiring help for the first time every and people who already have a team.
We've found the onboarding experiences that are the smoothest are ones where our client comes prepared (or at least partially prepared). With clients who are not prepared, it takes longer for us to get to full speed with managing their online presence. Why? Because we need to do a lot of foundational work.
Unfortunately, many entrepreneurs hire help at a time when they desperately need to hand it off immediately. And if they're not even a little prepared, it will be a while for their new team to be operating at full speed.
I want you to be prepared for when you hire your first team member so you can hit the ground running!
There are several things you can do to prepare for your first team member in the future. In this article, I'll be talking about Standard Operating Procedures.
Standard Operating Procedures
A Standard Operating Procedure (a.k.a. SOP) is a written document that describes how you do something. For example, you may have an SOP for client onboarding or an SOP for creating a social media graphic.
There are two main reasons why it's important to have SOPs:
1) Keeps the business consistent
SOPs are for tasks and processes that you do repeatedly. You must do them the same every single time to maintain consistency. Plus, having these tasks and processes written out means you don't need to rely on your memory to do them.
2) It makes it easier to onboard a new team member
When you bring on a new team member, you need to train them on what they need to do and how they need to do it, right? If you have it written out, then most of the work has been done already. All you have to do is hand over the SOP and only do a little bit of hands-on training.
Here are some examples of SOPs you can create:
Client onboarding
Client offboarding
Creating social media posts
Writing blogs
The specific steps it takes to perform a service you provide
Follow-ups with connections made at events
It is CRAZY how much more efficient Envivo is since we started building our library of SOPs.  I am absolutely obsessed with SOPs now. It is so much easier for me to hand off tasks to team members and most of the time, the new team member will complete the task exactly how we need it the first time. Why? Because I've created a very detailed SOP.
Structure of an SOP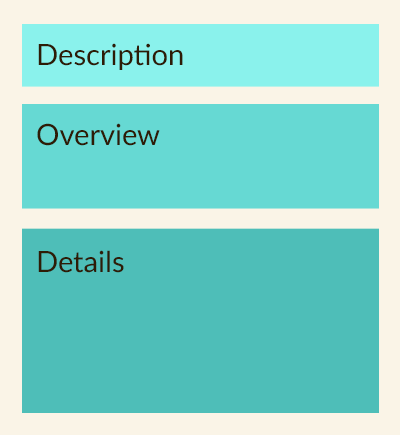 SOPs aren't some big complicated thing. It's just a simple document. There are three parts to it: a description of what this SOP is for, an overview of the steps, and detailed instructions.
1) Description
I think this goes without saying… The description describes what the process accomplishes.
2) Overview
Then, I give an overview of what they'll need to do in order to complete the process.
One of the SOPs we have is for new team member onboarding. These are tasks that my administrative assistant and I do together.
Here is the overview exactly as it is written in the SOP:
Create onboarding task in Asana
Send agreement and file away signed copy. [Do not proceed until agreement is signed.]
Set up @envivoweb.com email address
Create new accounts in Asana, Toggl, Slack
Put team member details in the _Wiki for Envivo doc
Put team member details in the Team Details spreadsheet
Tag team member contact in Insightly with EC Team Member
Send Welcome email to new team member
Begin training process.
The person taking on this SOP won't be able to complete these tasks based on this list alone, but it gives them a nice roadmap of what to expect in this procedure
3) Details
You'll need to give them more details on how to complete each step in the process. It is important to be as detailed as possible so there's less time needed to communicate and to hand-hold in order to complete the process.
The first step in our New Team Member Onboarding SOP is to create a task in Asana (our project management tool of choice) based on a template task.
Here is what the first step looks like in our SOP document:
1. Under the team __Envivo, go to the project General. Create a copy of the task Onboarding New Team Member: [NAME].

2. Be sure to replace "[NAME]" with the team member's name.

3. When you are in the process of duplicating a task, check these boxes:

Task Description
Assignee
Subtasks
Attachments
Tags
Followers
Projects
Dependencies

4. The next steps of this SOP are laid out as tasks within your newly created task list. Mark the tasks as "complete" as you complete them.
I also have a graphic in there that shows them what it looks like in Asana.
Trust me, if you have a clear and detailed SOP to just hand over to your new team member, you will save SO much time AND the result should be exactly what you need.
Creating an SOP is very simple. As you go through the process that you want to create an SOP for, just write down the steps that you take in order to do it. Then go back and add details to each step. Boom.
Again, if you aren't ready to hire your first virtual assistant, then this is the perfect time to start creating SOPs because when you are ready to hire, you don't need to figure out how to train them. And you'll spend less time training them. The work has already been done and they will be up to full speed in no time!